Did you know that The Bridge District is home to several pieces of public art. Review the list below and take yourself on a walking tour of the area. Or better yet, reach out to us and we will show you around!
franquette mural
Artist: Jay Howell, 2021
Former Sacramentan and talented artist/illustrator Jay Howell, best known for his work on television show Bob's Burgers, painted this custom mural in the bathroom hallway at local coffee/wine bar Franquette. It's quirky, vibrant, and super fun!  
SUBTILE
Artist: Federico Diaz, 2017
The Subtile is coated with more than 34,000 stainless steel disks! This piece is 26 feet long, 20 feet high and 6 feet wide. Come stop by the Bridge District and see this shimmering sculpture for yourself!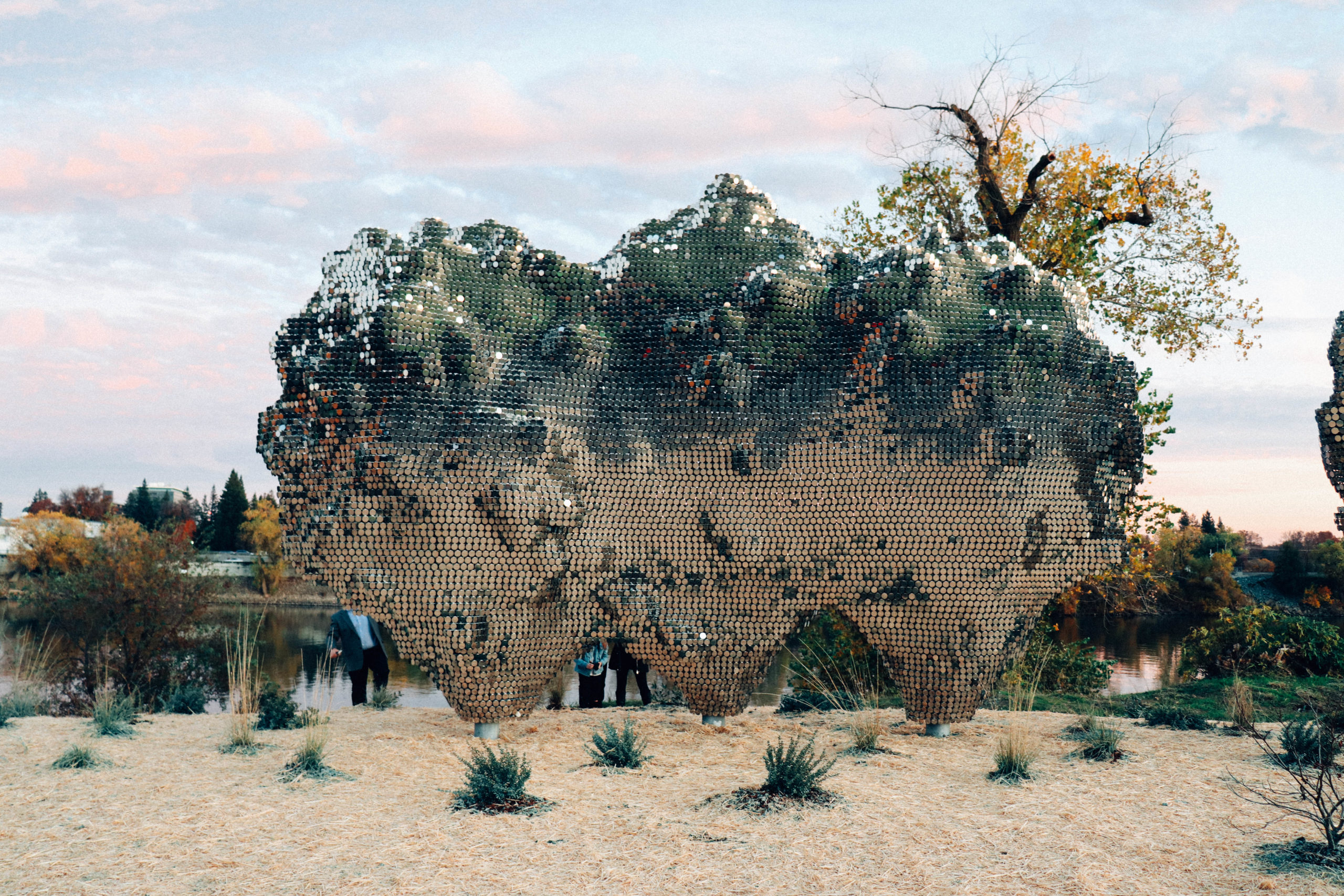 I HEart sacramento
Artist: Melissa Arendt, 2018
Local artist, Melissa Arendt, created this beautiful piece especially for 980 Central, one of the first apartment projects to hit The Bridge District. This piece is striking in color and celebrates all the wonderful things about our city. 
Artist: Jun Kaneko, 1994
Jun Kaneko is an internationally renowned artist and we are very fortunate to have two of his pieces in our neighborhood.
"He is best known for his "dangos" - large scale, painted forms, whose richly glazed surfaces communicate a humanity that belies their huge size."
THE BARN
Architect: Jerry van Eyck
The architecture design of The Barn, was inspired by a sprouting vegetable seed. The Barn is now home to Drake's: Brewing Co. and the full service PizzaSmith restaurant!  
WAITING FOR TITUS
Artist: Michael Bishop, 2001
Titus was created by Sacramento artist Michael Bishop during his three-month residency at the Kohler Factory Foundry in 2001. Prior to his debut in The Bridge District, Titus resided at the Navy Pier in Chicago, then at the Fulcrum Property HQ in downtown Sacramento. 
The Foundry Mural
Lead Artist: Lily Therens 
Assistant Artist: Jeremy Stanger, 2019
Lily Therens is a local visual designer and illustrator based in Sacramento. With the help of Jeremy Stanger she painted and created The Bridge District community with an artistic twist!
WEST
Mill Street Pier
Artist: Janet Zweig, 2017
Mill Street Pier extends 120 feet into the Sacramento River! The pier provides our community with beautiful views of the Sacramento skyline, Sacramento River, and the Tower Bridge. During the summer west pier transforms into a free yoga space for the Sacramento community!
Artist: Jun Kaneko, 1994
One of our favorite things to do in The Bridge District is to grab a friend and a cup of coffee and admire the beautiful art pieces along the river walk. There are two pieces by Jun Kaneko within the Bridge District. This one here is located on the river walk and its companion piece is on display in Garden Park for the community to enjoy!
LANDSCAPE TEXTILE
Artist: Meghan Shimek, 2022
Kerry campbell
edge Lobby
Kerry Campbell's bright, vibrant, abstract paintings bring the lobby spaces at edge Apartments to life. The collection is titled the Metaphorical Relationships Collection and each piece is accompanied by a poem written by the artist. 
We are so lucky to have this incredibly unique venue in our neighborhood. Be sure to follow along to stay in the know on all the wonderful events they host weekly.
Sponsor: Fulcrum : 1530 J Street STE 200 Sacramento CA 95814 / Nothing herein shall constitute an offer of any kind. Offers, incentives and seller contributions are subject to certain terms, conditions and restrictions. This Web Site could include outdated information, inaccuracies or typographical errors. Pricing posted on the web site is not guaranteed. Square footages are approximate. Square footage calculations may vary. Please contact sales agent for current information.
ORAL REPRESENTATIONS CANNOT BE RELIED UPON AS CORRECTLY STATING REPRESENTATIONS OF THE DEVELOPER. FOR CORRECT REPRESENTATIONS, MAKE REFERENCE TO THIS BROCHURE AND TO THE DOCUMENTS REQUIRED BY CALIFORNIA LAW TO BE FURNISHED BY A DEVELOPER TO A BUYER.
Artist's/Architect's depictions of for-sale and for-rent developments are included on this web site. These projects as actually constructed, may differ from these renderings in color, finish details, and overall appearance.
Equal Housing Opportunity Statement: We are pledged to the letter and spirit of U.S. policy for the achievement of equal housing opportunity throughout the Nation. We encourage and support an affirmative advertising and marketing program in which there are no barriers to obtaining housing because of race, color, religion, sex, handicap, familial status, or national origin.
Equal Housing Opportunity.